LE CAMPOLORO CAMPSITE IN CORSICA
With friends or family, it's the ultimate in happiness! Our entire team will take care of young and old alike throughout your stay at our campsite in Corsica. The youngest or the most energetic stroll or frolic in the shade of the oaks, pedal around laughingly, have fun in the water park, try their hand at pétanque or volleyball near the beach.
A PLACE FILLED WITH CHARACTER, SUN, PLEASURE AND CONVIVIALITY
A holiday in Corsica at Le Campoloro campsite means finding yourself in a world where wood, stone and vegetation combine to offer you a warm and distinctive atmosphere in a campsite where the entire team is dedicated to ensuring cleanliness, service, security, advice and entertainment. Tan, frolic, be carefree and peaceful. When the sun beats down in the heat of the day, seek the luxury of the cool shade under an oak tree a few meters from the beach with its magnificent sunrise, or next to one of the four swimming pools and the slides. Succumb to laziness. Indulge in a nap or go and get some exercise. Le Campoloro is a 4-star Corsican campsite of 225 site where you are sure to find what you are looking for in a cottage, chalet or bungalow suitable for your small (or large) family. For campers pitching their tents nearby, the distinct, shaded and spacious areas ensure both conviviality and discretion for magical and wholesome "made in Corsica" family holidays.
ACTIVITIES AT LE CAMPOLORO CAMPSITE
The Campoloro Campsite welcomes you to spend a few days in Corsica in a large wooded park with direct access to the sandy beach, with no roads to cross! Come and recharge your batteries and enjoy our quality activities suitable for all ages (children from 5 to 12 years old, teenagers and adults).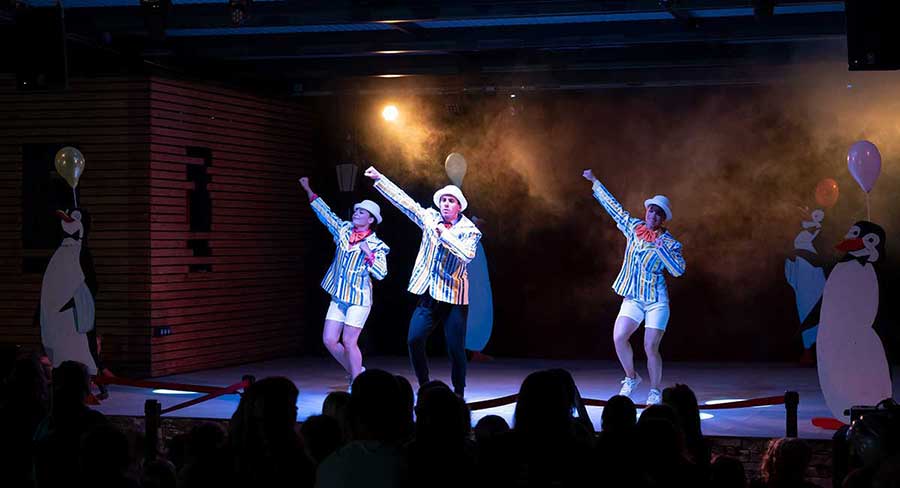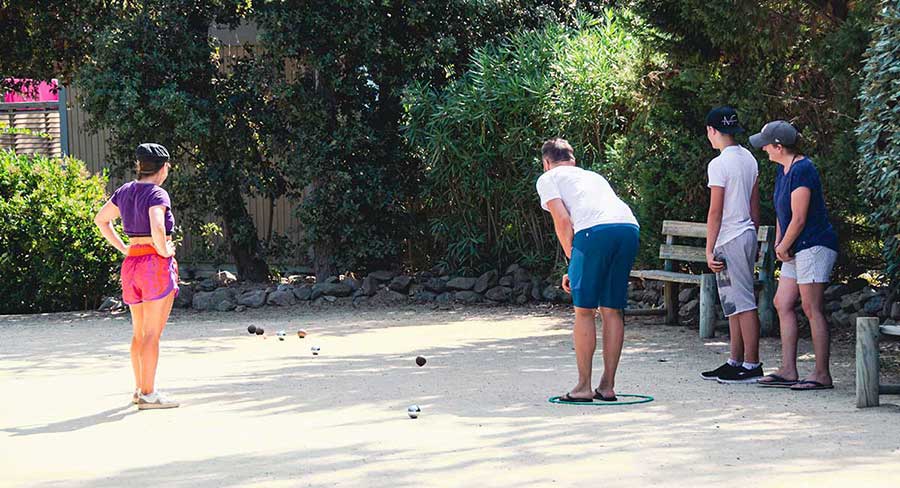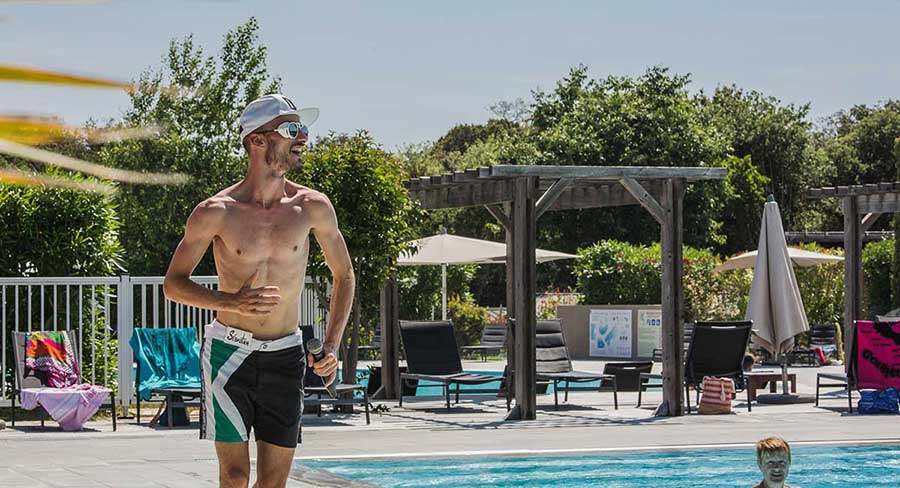 A LITTLE CORNER OF PARADISE FOR NATURE LOVERS …
Lovers of nature and authenticity, Campoloro campsite is in the heart of Castagniccia – the "chestnut grove of Corsica" – and one of the most distinctive destinations on the Isle of Beauty. Come and discover its gastronomy, its landscapes, its villages, its people and their stories. Securing your spot at the Campoloro campsite village opens up a wide range of choices in this area. Spread over ten hectares of a richly planted park overlooking the sea, our rental chalets and bungalows – all air-conditioned – combine comfort, aesthetics and privacy, since most of them are tucked away in a wooded area. Because conviviality does not mean you have to rub shoulders! All connected to the activities and services of the complex by pathways meandering between trees (ten varieties) and flower beds, our cottages, chalets and bungalows not only offer all the amenities – they are authentic islands of tranquillity for you to savour times of retreat that are so good to intersperse among all the activities offered by Campoloro campsite.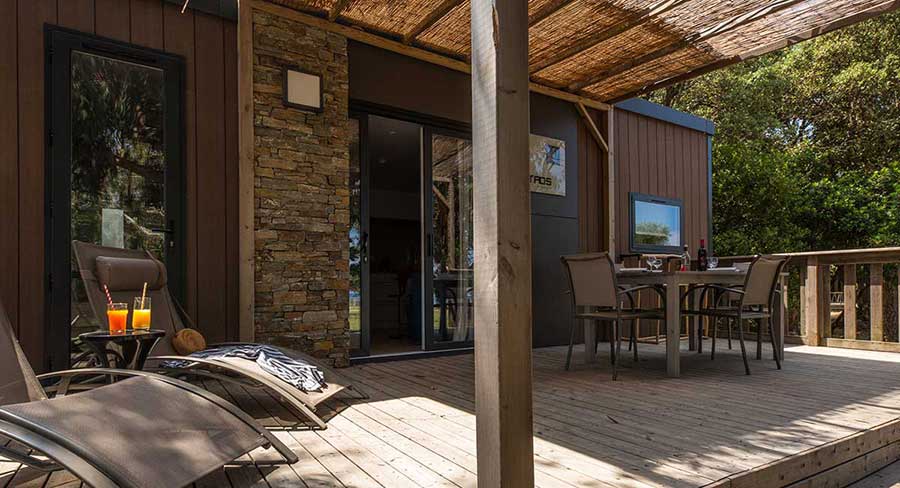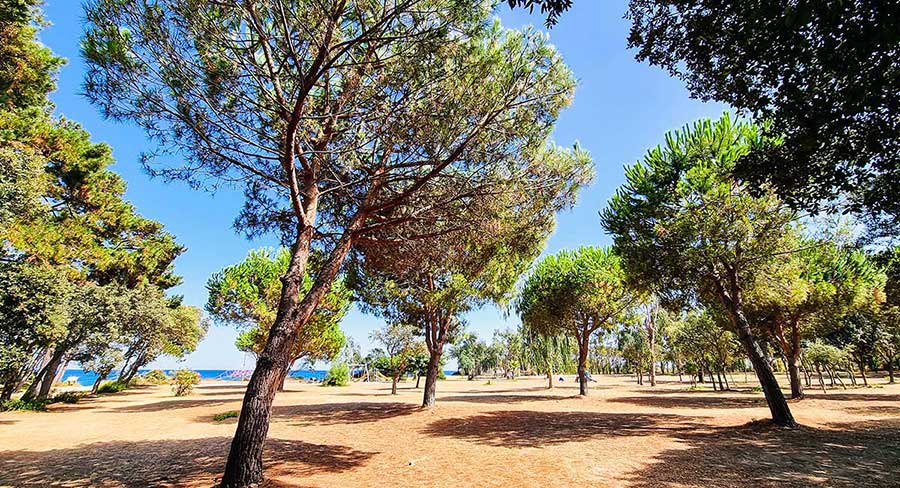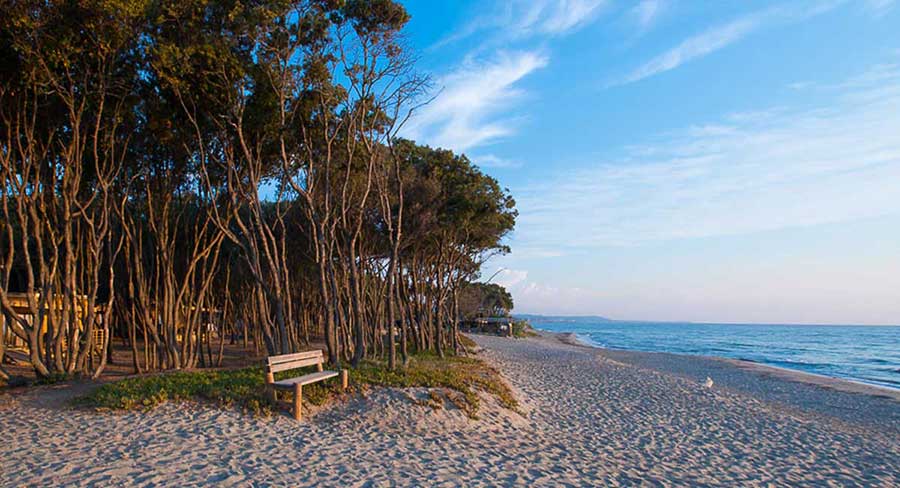 CALM AND SERENITY IN OUR MAXIMUM COMFORT BUNGALOWS
With their shaded terrace from which to savour the summer air, they are nestled in the heart of the surrounding preserved vegetation (no tree has been removed on the estate) and even glorify the natural surroundings through the wood and the stone from which they are built. These are two materials that symbolize the identity of Corsica. The first evokes the warmth of human relationships and the second embodies solidity when faced with difficulties, the spirit of resistance. These are values that Le Campoloro campsite enjoys cultivating. It is a philosophy that also applies to the space devoted to caravans, motorhomes and tents, with large pitches framed by greenery but also by the sea, so that everyone can enjoy it to the full during their stay so as to be entirely immersed in our concept.
DISCOVER THE BARE PITCHES OF OUR CORSICA CAMPSITE
Our campsite has many empty pitches (also accessible for people with reduced mobility), which will make yours a happy holiday. We pay particular attention to the quality of these locations. We have pitches for tents, camper vans, caravans. All our pitches (caravans, tents, etc.) have an electric terminal (10A). For your holidays, our campsite has set up water points in our two common sanitary facilities to make your life easier, one of them is heated and has a shower adapted for PRM. Two waste water dump stations are at your disposal.
CAMPSITE IN CORSICA WITH WATER PARK AND SLIDE
Discover this little corner of paradise …
It's time to pack your bags and hit the road … to Corsica! And this year, you have chosen accommodation that is very trendy yet ideal for families and groups of friends – a campsite with a water park. This is a popular choice, because it allows you to discover the charms of the Island of Beauty while having a good time with your family enjoying the multiple activities offered by this Corsican campsite. Let's see how to make the most of a holiday that promises the best possible amenities.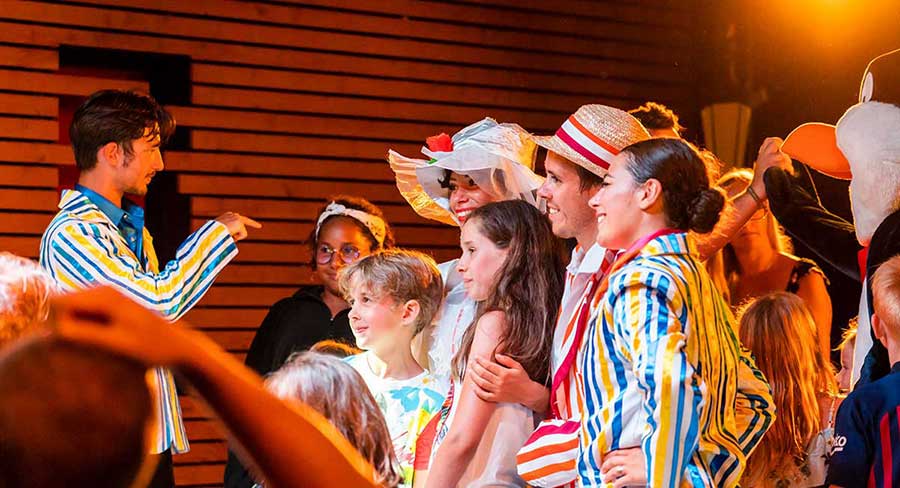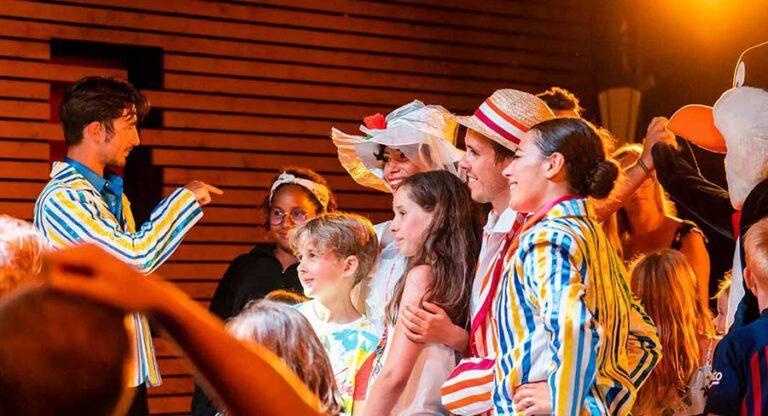 A TEAM THAT TAKES CARE OF YOUR EVERY NEED
In Le Campoloro campsite, everything is done to ensure that you have the time of your life. Qualified teams take care of everything so that your only concern is to have fun and relax with your loved ones. We have fun activities for people of all ages. The little ones can learn about plastic art, do painting or colouring workshops, join in outdoor games, make-up sessions, etc. Teens will discover the pleasures of the game of pétanque, ping-pong or sports tournaments with all the new friends they are sure to make. For parents and other adults, everything is done to make your lives easier and relieve them – if they wish – of mundane chores: concierge, laundry, bar, fast food service, grocery store, rental of chairs and cots and of a refrigerator for empty pitches.
A friendly and family atmosphere
The advantage of camping  is that you can do many activities together. The busy life of the rest of the year prevents many families from having enough time to spend together. A stay in a campsite allows you to get together and share memorable moments. Your children build wonderful memories that will stay with them for years to come. Adults, teenagers and young children are often unanimous in their comments about the campsite in Corsica.
Campsite with a water park, fun, fun and... fun!
More than a water park, it's a little paradise for the youngest (or oldest) of us! A must-see attraction and a guarantee of unforgettable holidays, it is impossible to be bored when you choose a campsite with water slides. Fun and thrills are on the agenda with great laughter shared for the happiness of all!