CAMPSITE IN CERVIONE IN NORTH CORSICA, COSTA VERDE ACTIVITIES
The Costa Verde in Corsica is full of treasures to be discovered: landscapes to admire, trails and paths to walk, local heritage to explore and sporting activities of all kinds to enjoy. It is all waiting to welcome you and delight you with its secrets!
From Le Campoloro campsite in Cervione, take a walk through Costa Verde and take advantage of the sublime combination of sea and mountains to navigate from one universe to another – you will discover a rich land whose history ebbs and flows to the rhythm of the azure waves sculpting the earth. Whether you are curious to explore the historical heritage of the region, passionate about exhilirating adventures, or lovers of gastronomic journeys, the activities around the campsite are legion – when you leave the Corsican Costa Verde, your head will be filled with exquisite memories … and your suitcases with lovely gifts to share with your loved ones on your return!
At reception, the Cervione Le Campoloro campsite team will give you all the information you need to organize your Corsican excursions. Expect to be enchanted by the magic of polyphonic songs and allow your heart to touched by our chapels, forests, botanical trails, small winding roads and mountainside hamlets.
TOURIST ACTIVITIES IN THE REGION
The region offers the opportunity to practice various sporting and cultural leisure activities:
Scuba diving
Hiking and horse riding
Tennis and boat rides
Paragliding, canyoning and zip line
Museum and a visit to the cathedral…
Climbing, canyoning, hiking or snorkelling, rafting, paragliding, horse riding, mountain biking … you will find something near your campsite Le Campoloro in Cervione to make your holiday in Corsica a sporty experience
Water sport aficionados can set sail, learn to scuba dive, kitesurf to their heart's content …
History and heritage enthusiasts are not left out either – visit the Ethnographic Museum of Cervione and its fourteen exhibition rooms and discover the incredible religious heritage of the village.
Adventures await you in the air, on land and in the water for a variety of ways to experience Corsica.
The Costa Verde – authentic, green and distinctive : The mountains of our region with its 14 villages are the closest to the sea in all of Corsica. From your campsite in Cervione, discover the treasures of our land and the expertise of its craftsmen and Corsican producers; taste the flavours of the land and allow yourself to be filled with the happiness of tasting the Corsican Costa Verde and all the authentic treasures she has to offer.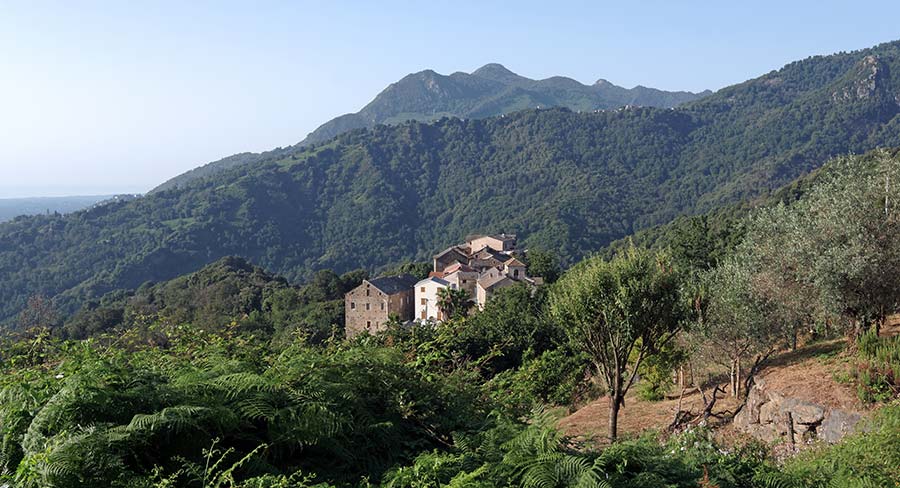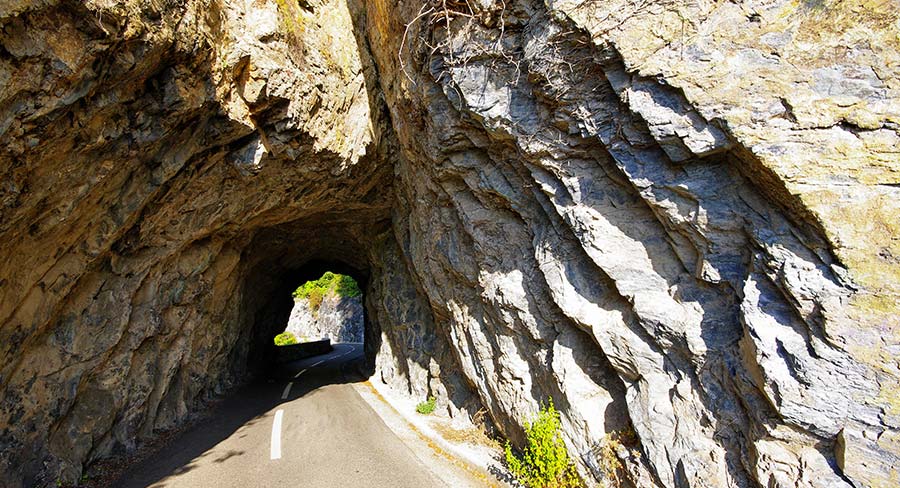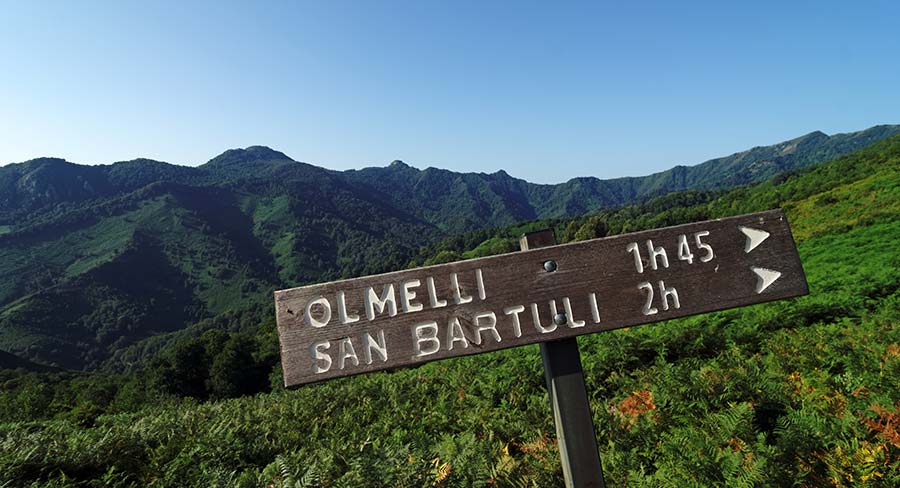 Morianincu is a region of the Corsican Costa Verde located between sea and mountains, criss-crossed by splendid villages and hamlets steeped in history, rich in a remarkable architectural, cultural and religious heritage:
San Giovanni di Moriani – nestled between the sea and the mountain with its remarkable
all-stone parish church, whose 39m bell tower is one of the highest in Corsica.
San Nicolao and its five picturesque hamlets; Santa Lucia di Moriani with its traditional houses and its majestic view that plunges down to the sea.
Santa Maria Poggio with its Genoese bridge and religious architecture.
Santa Reparata di Moriani, perched in a nest of greenery with its legendary cave of the bandit Natale, and its beneficial ferruginous water.
Morianincu is also a paradise for hikers, with many trails leading from one hamlet to another: you will never tire of the surprises that await you around every bend – panoramas plunging down to the sea and breathtaking beauty. Follow these hidden trails to explore the villages of Morianincu and discover the true gems in this area of unspoiled nature.
Ultimately, Morianincu would not be what it is without the splendid beaches of fine golden sand that stretch around San Nicolao as far as the eye can see, where you will love to relax while gazing out at the azure waves of the Mediterranean. There are some locals who say that if you have never seen a sunrise over Morianincu, you have not really experienced the beauty that nature offers during these moments that are suspended in time … come and see for yourself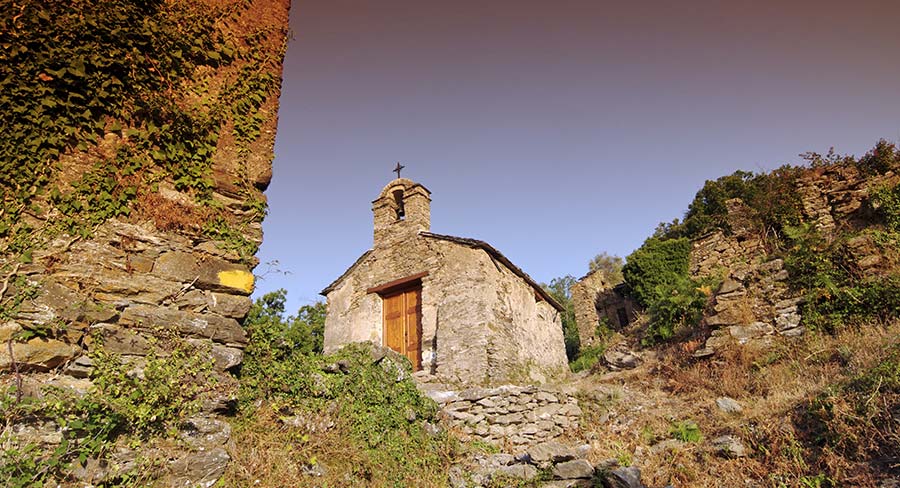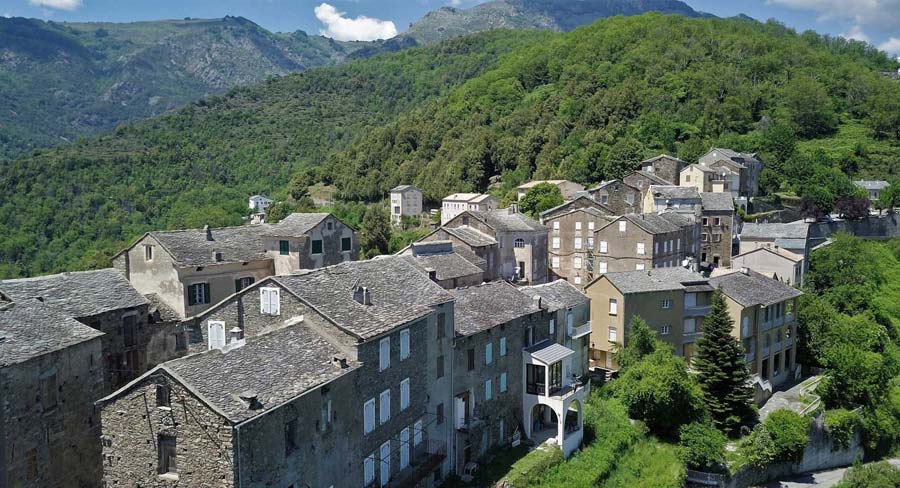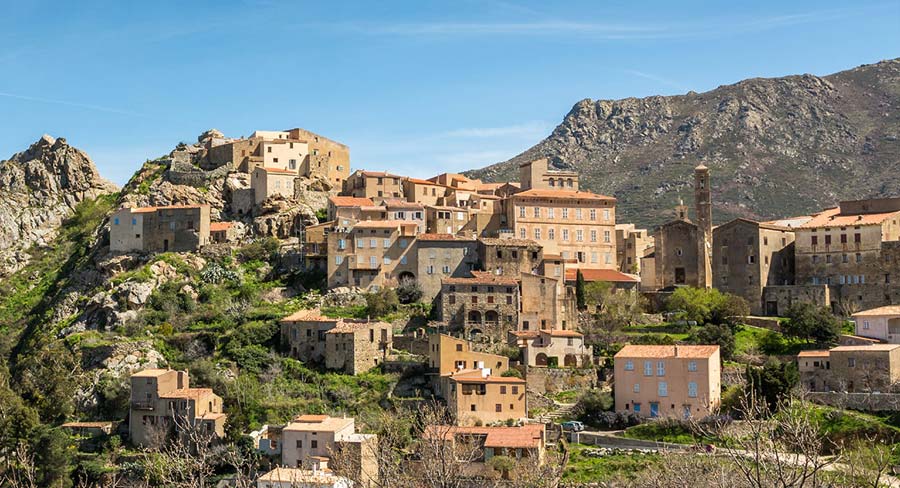 FROM VILLAGE TO VILLAGE, TRAVERSE THE CORSICAN PIEVES
There is no shortage of charming, historic villages in Corsica's Costa Verde: the "pieves", these typical Italian parish villages in particular, have bequeathed to the region an architectural and religious heritage of infinite richness which you will never tire of discovering.
The Campoloro: Cervione and its St Erasmus Cathedral or the Museum of Art and Popular Traditions, San Giuliano with its fountains and chapels of Saint Joseph and Saint Anthony… Sant'Andrea di Cotone, a picturesque village surrounded by wooded hills, Valle di Campoloro with the Palazacciu and the Padulone beach.
La Tavagna: Taglio Isolaccio, the two hilltop villages that face each other, cradle of the Bernardini family of the I Muvrini group. Talasani, a hamlet in the plains which shelters the ruins of the old Romanesque chapel "San Petru", Velone Orneto, a charming pedestrian village …
WHAT WILL YOU TAKE HOME FROM CORSICA?
Canistrelli, an artistic knife, pottery, organic products, essential oils, cosmetics, designer jewelry, hazelnut specialties from Cervione, AOC Corsica wine, sheep'S cheese and so much more!
Take a piece of Corsica with you when you leave, it will sustain you while you wait to go back again. And in the meantime, we will keep your spot warm at our campsite Le Campoloro in Cervione…